Hello Friend!
Are you a woman of faith who is sick and tired of being sick and tired of your faith not bearing fruit? If you feel stalled and stagnant, like your faith just isn't growing, this space is for you!
This is a place where you learn how to:
So Welcome, welcome, welcome! 
My name is Caddabra. Yes, as in abracadabra. I'm serious. That's my name. No, I'm not joking. I could show you my birth certificate if you'd like. Lol
Believe me when I tell you that my name never fails to be a great conversation starter. So I'm pretty sure that by now you're curious about how I came to have it, what it means, what life was like growing up with it and all that jazz.
Since our friendship is new, I know we'll get around to it at some point. So I'm in no rush. I want our friendship to be a slow stew.
This blog has been years in coming. I used to write every single week. I had loads and loads of stuff in books, random papers, and Google docs. Nobody was benefiting from it except for me when I go back and read them for encouragement.
So I figured it was time someone else benefitted from all the good stuff I've been hiding under a bushel.
Why now?
Well, I am a wife and graduate student. You see, grad school is so demanding that I feel like my relationship with God is getting sidelined. Raise your hand if you feel like life is crowding God out. Yup. You've got company.
So I started this blog as a means of holding me accountable. Nothing helps you refocus like thinking about others. And nothing helps you grow personally like helping others to grow. 
And the truth is that for years I have been thinking about you. Yes, you. Why have you been on my mind?
Because honey, for a while now you have been considering many things in your heart but because of fear you have been hemming and hawing. I have had a burden for you because there is so much you are missing by not stepping out in faith.
I was a freshman in college when I discovered Hebrews 11:6 "For without faith it is impossible to please God and he is a rewarder of those who diligently seek him." This verse completely changed my life. Although I had accepted Jesus about three years prior, I just didn't get what faith was about. 
Really trusting God is hard ya'll.
Fast forward a decade and a half later and I can say having faith in God has been the single most powerful factor in achieving my personal goals and dreams. Since discovering this verse Hebrews 11:6, some seriously amazing things have happened in my life and I want to share them with you.
The Faith Space is about nurturing your personal faith in God. I want to help you dear sister to trust God with the massive and minute things. You know how those guys jump out of an airplane and depend on flimsy manmade parachute to keep them from crashing to the ground?
I want you to trust God just like. To take the leap of faith that you have been wishing you had the courage to do. To abandon all fear and jump. Take the plunge. And refuse to let go like Jacob did.
So give me your hand girl! Let's go! 
I don't want you to leave here empty handed so hop over and see which of these 60 free Scripture printables wall art will encourage your faith!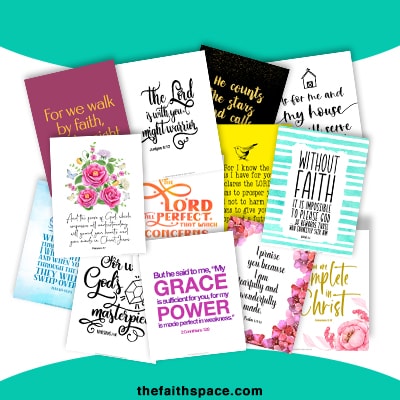 If you are looking for some good godly, non-screen, self-care resources, you can check out these Scripture coloring pages about faith for adults too.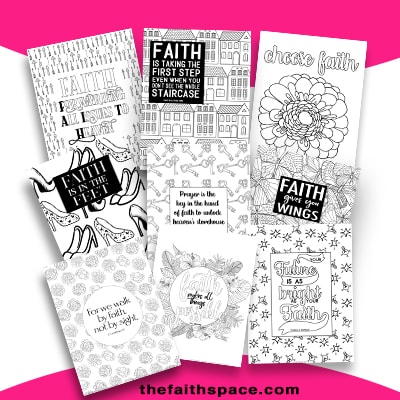 Here is to a new and improve faith walk with our King, because you my dear sister have been given all the power to live by faith instead of by sight.