Looking for prayer list templates to keep track of prayer requests and keep your prayer binder organized?
Having a plan for your prayer life is important because the enemy has a plan for you. Printable templates can help you do just that.
How do you make a prayer list?
Some people's prayer lists cover matters from personal concern to international concern. Prayer list items range from the neighbor over the fence, to the missionary abroad to foreign governments. Your list does not have to be this wide.
Making a prayer list is as simple as writing down the things that concern you. Everything from your spiritual growth, to your health, to your family, to your job. There is nothing that is too big or too little for your prayer list. If it concerns you, it also concerns God.
If you are new to making prayer lists, I have put some examples below using the templates in this post. Check them out.
Printable prayer list template
These pretty prayer list templates will allow you to make a list in a brain-dump kind of format. With the blue and yellow prayer sheet, just write down what you want to remember prayer about. There is no particular category of order.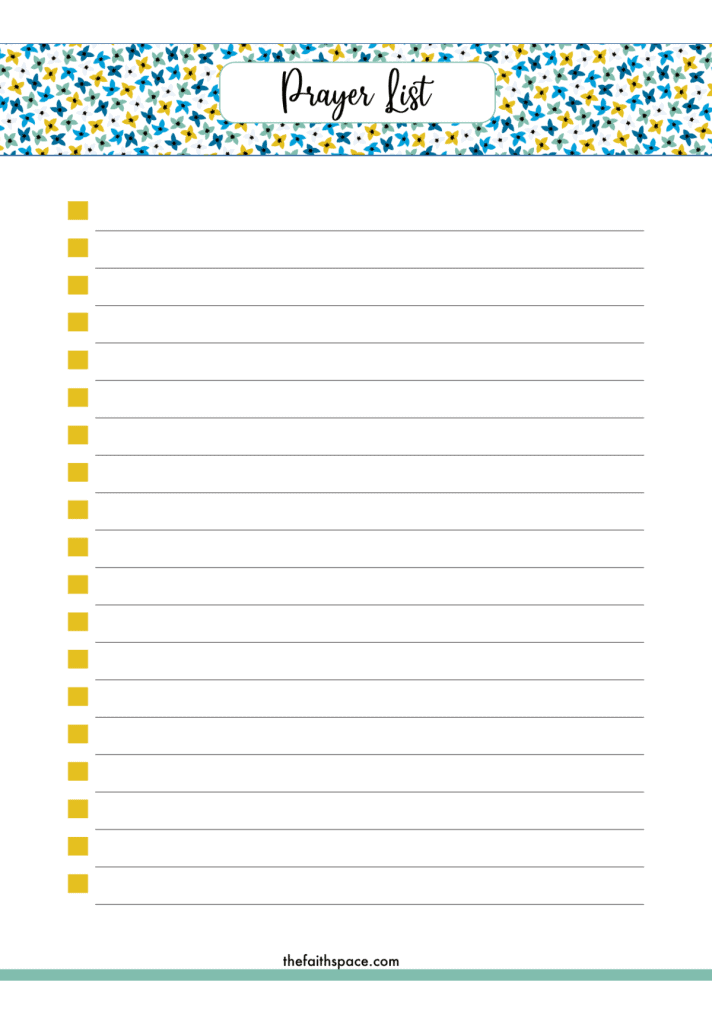 DOWNLOAD Prayer list template pdf
With this beautiful pink and blue prayer template, you can write down your prayer concerns based on the category they fall in. There is also a blank copy without lines for if you wish to create your own prayer categories.
DOWNLOAD Prayer list template pdf without lines
DOWNLOAD Prayer list template pdf with lines
How do I keep track of prayer requests
This is a good question. I try to pray for people right on spot as they request prayers because you know the human brain can be like a strainer. But, requests keep coming every day. And then there are some requests that are on-going. Things that need to be kept before God for a long time.
Using a prayer request tracker template is a good idea. This prayer request tracker will allow you to write down the name of the person you are praying for or describe the situation. You can also write notes about any updates and/or when God does answer.
DOWNLOAD Prayer request list template
Prayer list examples
If you are still struggling with how this all works, here are a couple of examples of prayer lists. I used the same templates in this post.
You can also just use typing sheets or a composition book to do this. But some people like their stationery to be pretty because, you know, motivation is and all.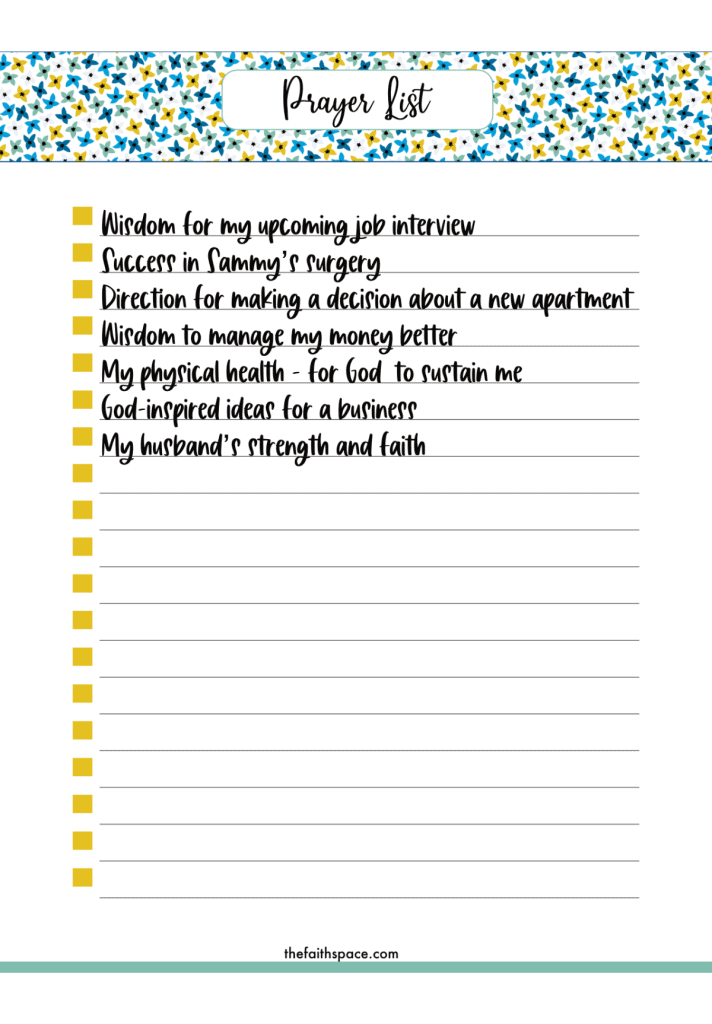 What is a prayer list at a church?
Most churches have a prayer ministry. This ministry is fueled by requests from the members to pray about various things. To keep track of all these requests, they will create a prayer list. A list like this is a good idea for many reasons.
First, the body of faith will know what is going on with each other. Documenting these requests also helps to keep track of how and when God answers those prayers. It can serve as encouragement and instruction for the body of Christ.
Church prayer list template
Here is a pretty church prayer list template to start a prayer list or continue.
DOWNLOAD Church prayer list template
Other prayer list template options
Do you prefer a version that you can just type into instead of having to print it? Perhaps a Microsoft Word document is what you need. Check out TemplateLab has 49 prayer journal templates in with prayer list templates in Word for both children and adults. An excel Prayer list template is also an option if MS Word template is not what you are looking for.
I know not everyone is like me. For spiritual exercises like prayer and Bible study, I prefer paper and pens. If you prefer to have your list of things to pray for on the go, you can check out Echo. It is a prayer list app and so much more and it can be used on both Apple and Android devices. Echo is among the 10 best prayer apps to try.
Terms of use: The printables on The Faith Space blog are for personal use only. The files may not be altered or redistributed for monetary gain without written consent from the author. This includes but is not limited to selling the printed product, selling the file, or uploading the file to any other website other than to have it printed for personal use. You may not use anything on our site for any commercial purposes.