This 52 week Bible reading plan is your daily guide to reading the Bible in one year. Many Christians have a goal to read the entire Bible within 365 days. Great goal.
The problem is, it's alot to read and you can easily lose your way. That's why this Bible reading plan is a good tool to use.
But where do you start?
What is the best way to read through the Bible in a year?
Different strokes for different folks.
There is no single or best way to read through the Bible in a year.
But here are a few tips.
Find a Bible reading plan that breaks down the chapters into daily readings for each day in the year. This will give you a daily goal and encourage consistency.
Choose to read at the time of day you're most alert. This is different for everyone. Feel free to change up the time you read as well. It keeps away the monotony.
Follow in your Bible while you listen to it being read on audio.
Break up your daily Bible reading into parts. So instead of doing it in one sitting, spread the chapters across your day.
Read aloud. Ask someone to read aloud with you. There is strength in company.
Use various translations. This adds interest.
In what order should I read the Bible?
There are a few ways to approach reading the Bible. Here are a three ways to try.
#1 Traditional order
Read the Bible from beginning to end the way it is set up, from Genesis to Revelation.
#2 Chronological order
Read the Bible according to when historical events occurred. Scroll down for more on this plus the printable chronological Bible reading plan.
#3 Skip around order
Some Bible readings alternate between the Old Testament and New Testament. Foe example, this 52 week Bible Reading plan, pulls readings from all the genres each week. So as you read, you are reading from a different book of the Bible each day. If you are a beginner, this is not the best plan for you.
#4 Beginner's order
For beginners, the traditional order isn't usually recommended.
But there are various suggestions for how beginners should approach reading the Bible in a year.
David Kim from Pursuit Bible outlines the first 15 books of the Bible that beginners should read.
Genesis
Exodus
Joshua
1 Samuel
2 Samuel
1 Kings
2 Kings
Ezra
Nehemiah
Habakkuk
Proverbs
Luke
Acts
Ephesians
Revelation
Another suggestion is to start with the New Testament and work backwards to the Old Testament.
The Gospels
Acts
James
1 John
The Epistles by Paul
The rest of the New Testament
Genesis
Psalms
Daniel
The rest of the Old Testament
Whichever approach you choose, my best advice is to start with a focus on stories. Then, read to learn. Don't just read to complete the plan.
Things will take some time to make sense. And you will not start seeing connections until you have the Bible multiple times.
Be patient with the process.
52 Week Bible reading plan – Traditional
This traditional plan lists the 52 weeks of Bible reading in the order of the books of the Bible.
The plan breaks down the chapters into small chunks from Genesis to Revelation.
Although it is arranged traditionally, you don't have to stick to that order.
This is a good Bible reading plan for beginners.
DOWNLOAD 52 WEEK BIBLE READING PLAN PDF
52 Week Bible reading plan – Chronological
This plan organizes the Bible readings according to how and when the events take place.
As is, the books of the Bible are not chronological in terms of when the books were written.
For example, the book of Job was said to be written before the book of Genesis. But that's not the way it is organized.
So this 52 week chronological Bible reading plan follows what scholars say is more or less the actual timeline for when events took place in history.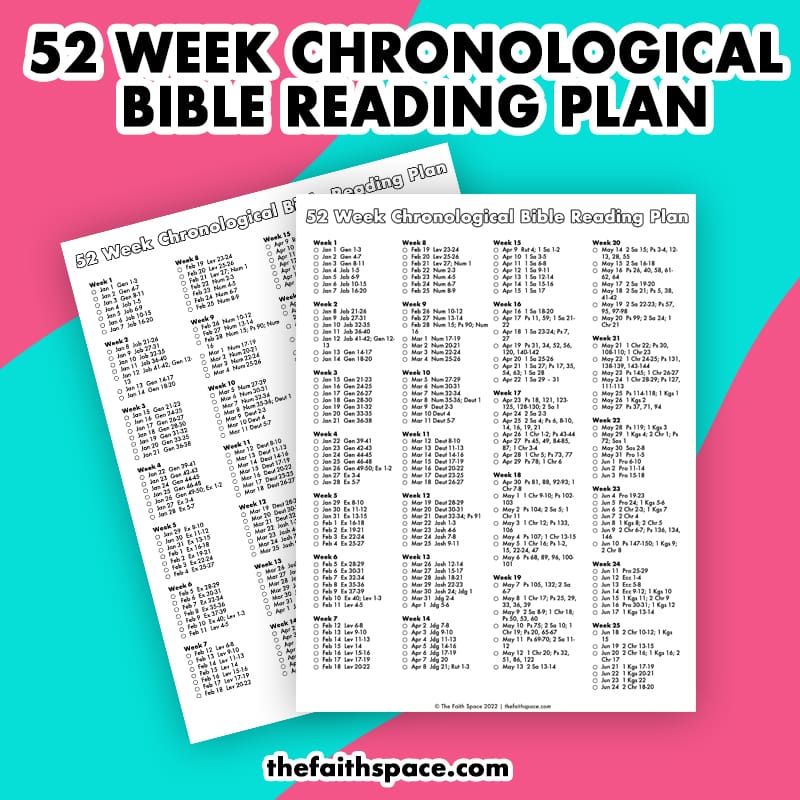 DOWNLOAD 52 WEEK CHRONOLOGICAL BIBLE READING PLAN PDF
Final words on 52 Week Bible Reading plan
There is so much of the Bible that we still do not understand. Yet, there is so much of it that we do understand. And what we do understand provides light and life to the way we live.
Reading the entire Bible is about getting to know as much as possible about God and how he shows up in our lives.
With these plans, you can read the entire Bible in 12 months. You will be closer to the goal of getting even more acquainted with your Savior. I pray you grow to love Him even more.
RELATED POSTS
Terms of use: The printables on The Faith Space blog are for personal use only. The files may not be altered or redistributed for monetary gain without written consent from the author. This includes but is not limited to selling the printed product, selling the file, or uploading the file to any other website other than to have it printed for personal use. You may not use anything on our site for any commercial purposes.