Yes! Free printable Bible coloring pages with verses. Who would have thought that a few markers and a sheet of paper with a drawing on it could provide such a rich, relaxing worship session.
In this post you will find Bible verse coloring pages for both adults and children. They are in pdf and jpeg formats for you to download quickly and easily.
Bible coloring pages for adults
There is currently a craze around adult coloring. It's popular because research supports its effectiveness for reducing stress and anxiety.
Although much of this research was done on people coloring mandalas, I do think there is value in coloring just about anything that appeals to you personally.
Coloring is a form of art.
According to researchers, when you spend time coloring, the parts of the brain that are responsible for anxiety become otherwise occupied by your deep concentration on the images, patterns, shapes, and colors on the page.
The result is that your heart rate is reduced, your mind relaxes, and a sense of calm overtakes you. In essence, your brain is forced to refocus.
So instead of anxiety provoking thoughts, your brain now gets food for thoughts on other things.
And how great it is when those thoughts are on the Word of God as well as uplifting, inspiring messages.
Are you having a difficult time in life right now? These simple Bible coloring pages can help.
Encouraging Bible verse coloring pages for adults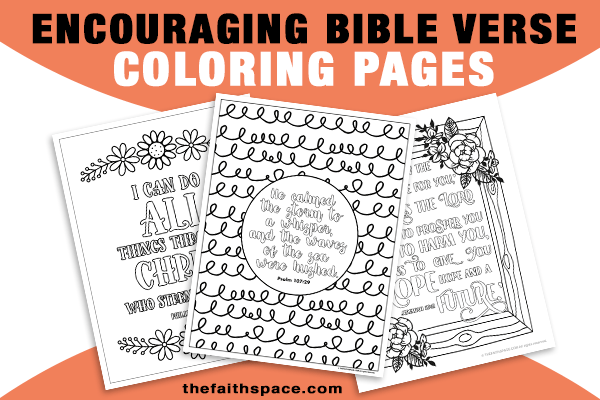 Download Phillipians 4:13 I can do all things through Christ who strengthens me.
Download Jeremiah 29:11 For I know the plans I have for you," declares the LORD, "plans to prosper you and not to harm you, plans to give you hope and a future.
Download Psalm 107:29 He calmed the storm to a whisper, and the waves of the sea were hushed.
When I was in high school I was pretty good at Art. Or so I was told by my teacher. It was probably the only class in which I felt I wasn't actually doing work.
It was so relaxing to draw, shade, paint and color.
When the time came for me to narrow down my courses towards my career choice, I did not think art would be beneficial for my future.
So it did not end up on my list. But since then, I've always enjoyed coloring.
Sometimes life gets so busy and overwhelming that I forget about it as an option for relaxation.
I'm getting back around to it now though. And I've started with creating these encouraging pages with Scriptures to color.
Fruit of the spirit coloring pages
Ever heard the saying that you should never pray for patience because if you do God will send you trials?
Trials are one way God helps use to develop the fruits of the Spirit. But usually, His first strategy is to speak to us through His word.
You can cement these words in your heart with Scripture coloring pages with verses on them.
While you color away, you listen to a sermon on the subject or cue up curated playlist of your favorite gospel songs.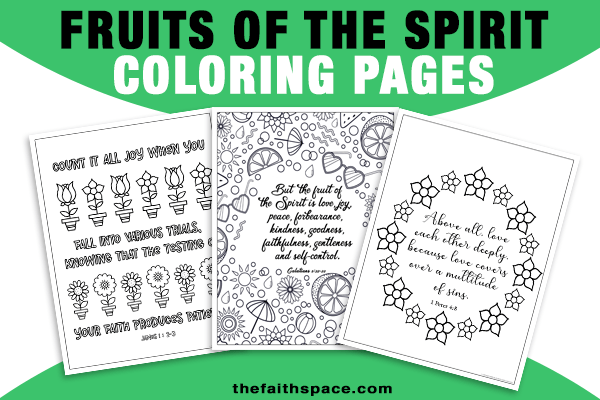 Download Galatians 5:22-23 But the fruit of the Spirit is love, joy, peace, forbearance, kindness, goodness, faithfulness, gentleness and self-control. Against such things there is no law.
Download James 1: 2-3 count it all joy when you fall into various trials, knowing that the testing of your faith produces patience.
Download 1 Peter 4:8 Above all, love each other deeply, because love covers over a multitude of sins.
Prayer coloring pages for adults
Prayer changes things! There is power in prayer! God answers prayers!
If you have ever had your prayers answered, you know I'm right.
There are many creative ways to pray. And using the Scriptures to pray is just one. Another is using Bible verse coloring pages.
Ever prayed through a coloring page? Now is your chance.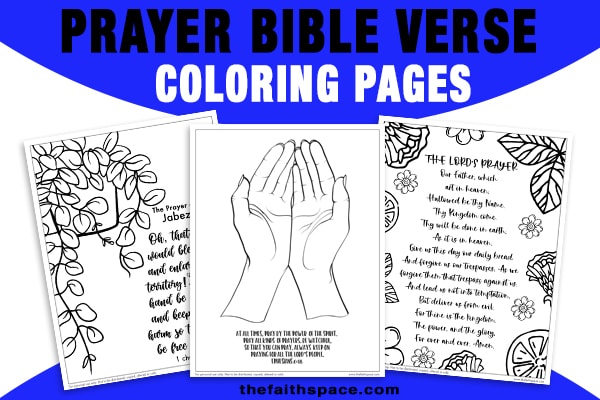 Download the Prayer of Jabez
Download Ephesian 6:18 praying hands coloring pages
Download The Lord's Prayer
GET MORE: 20 Free Prayer coloring pages to download and print
Bible coloring pages with verses for the holidays
There are so many holidays throughout the year. Some encourage busyness, like Christmas. Others encourage contemplation, like Easter.
Whatever the case, you want to keep connected with God. Around those times, you might want to add a little flavor to your worship sessions.
Here are some Bible verse coloring pages that you can use for 4 holidays throughout the year.
Christmas Bible verse coloring pages
Christmas is my favorite holiday. There is something magical, peaceful, romantic, and holy about it.
I got married in December so that definitely adds to the magic of the Christmas season.
But Christmas can also be crazy, especially if you're from a big family. Think Home Alone.
You might have to hide to get some alone time with God.
These holiday Bible verse sheets can help with that, especially if you are an introvert battling the idea of too many people in your for an extended time space.
If that's not your situation, you can enhance your holiday devotional time with these Christmas Bible coloring pages.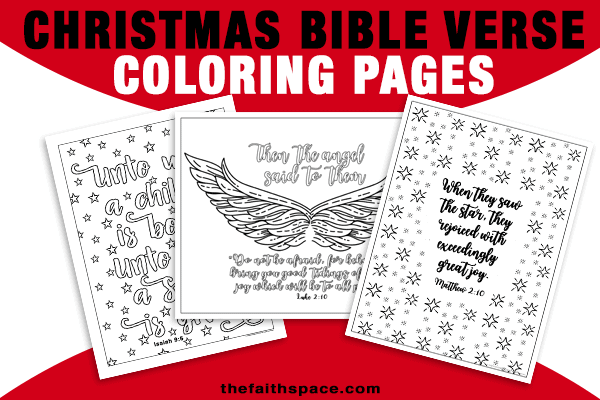 Download Isaiah 9:6 For to us a child is born, to us a son is given, and the government will be on his shoulders. And he will be called Wonderful Counselor, Mighty God, Everlasting Father, Prince of Peace.
Download Matthew 2:10 When they saw the star, they rejoiced with exceedingly great joy.
Download Luke 2:10 Then the angel said to them, "Do not be afraid, for behold, I bring you good tidings of great joy which will be to all people.
Thanksgiving coloring pages with Bible verses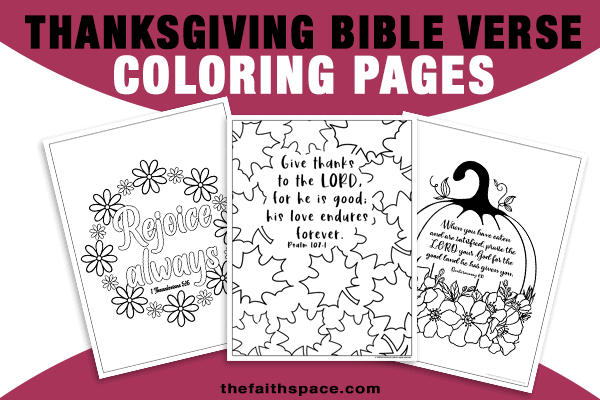 Fall. The time of year that I appreciate for all the yellows, reds, browns, and burnt oranges.
Once the weather cools and I start to see the leaves changing, I know the end of the year is close. It's almost time for Thanksgiving.
That's my cue to start reviewing the year. Think of my one guiding word or phrase for the next year. Map out some goals.
Gratitude is an important part of that exercise. And if I feel like I need a gratitude re-set in the middle of the year, I might need something to nudge me.
Thanksgiving Bible verses coloring pages are helpful for this. I hope they will be helpful for you too.
Download Psalm 107:1 Give thanks to the LORD, for he is good; his love endures forever.
Download 1 Thessalonians 5:16 Rejoice always
Download Deuteronomy 8:10 When you have eaten and are satisfied, praise the LORD your God for the good land he has given you.
Love Bible verse coloring pages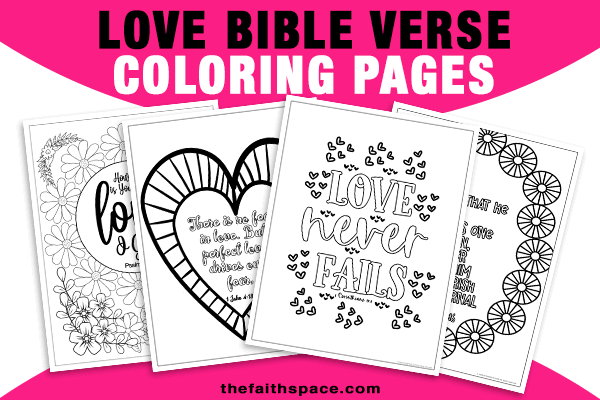 The one ingredient that makes the world go round. So complex yet simple is this thing called love.
Jesus demonstrated it best by going to the cross for us. If only we could love God the way he loves us.
As we work towards that, we can meditate on the love he has for us. A truly unconditional kind that keeps coming no matter how much we have sinned or how far we have strayed.
Here are a few free printable Bible coloring pages with Scriptures about love for you to download and get you started.
Download John 3:16 For God so loved the world that he gave his one and only Son, that whoever believes in him shall not perish but have eternal life.
Download 1 Corinthians 13:7-8 Love never fails.
Download 1 John 4:18 There is no fear in love. But perfect love drives out fear,
Download Psalm 36:7 How precious is Your unfailing love, O God!
Valentine's Bible verse coloring pages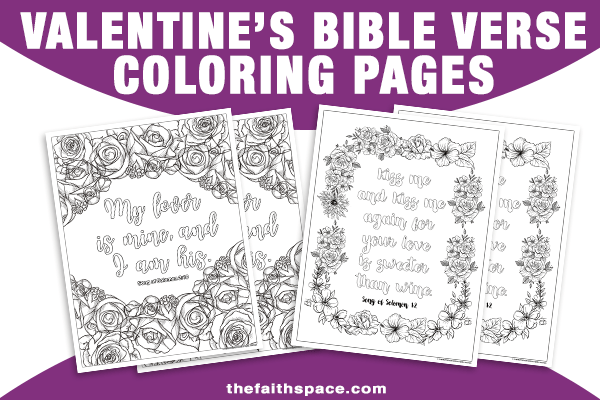 Honestly, Christian valentines day coloring pages printables are always so boring. I mean in terms of the Bible verses that are on them.
If you have kids, I know you didn't conceive on the song Blessed Assurance.
I understand that the ones for kids need to be of a certain focus. They need to be appropriate. I'm an educator. I know that.
But I rarely ever see any that I could color and gift to my husband as a truly romantic gift that is also Biblical. So I decided to create two.
Let me know what you think.
Download Song of Solomon 2:16 My lover is mine, and I am his.
Download Song of Solomon 1:2 Kiss me and kiss me again, for your love is sweeter than wine.
Easter coloring pages with Bible verses
Easter is definitely one of the most somber Christian holidays. It's a time to slow down and consider the sacrifice Jesus made for us.
It's a time to hone in on the Easter story. Read it from different versions and all other verses that make reference to it.
You might want to memorize some Scripture to hold in your heart for the rest of the year.
Coloring the Bible verses you want to commit to memory is a good way of achieving that goal.
These free printable Bible easter coloring pages has some verses you can consider.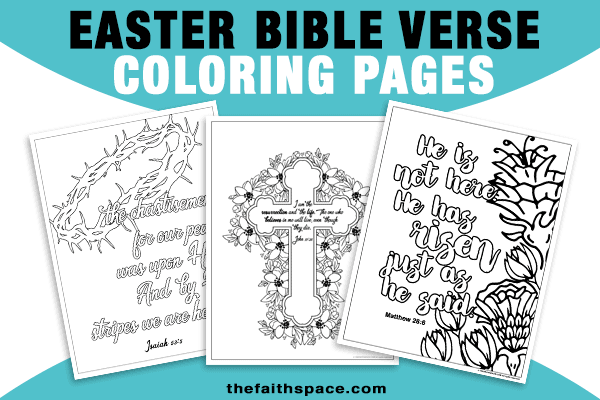 Download Isaiah 53:5 But He was wounded for our transgressions, He was bruised for our iniquities; The chastisement for our peace was upon Him, And by His stripes we are healed.
Download John 11:25 I am the resurrection and the life. The one who believes in me will live, even though they die
Download Matthew 28:6 He is not here; he has risen, just as he said.
Bible verse coloring pages for kids
Quite often, children are given coloring pages in church to keep them quiet or as an activity to occupy them.
Coloring for children is more than just a stand-in activity. Coloring helps to develop their fine motor skills which they need to do everything from feeding themselves to writing to playing board games.
Coloring also helps with their hand-eye coordination so they are able to copy notes from the board at school.
In an age of overstimulation from electronic devices, coloring can help children to concentrate, focus, relax and calm their emotions.
So you see, there is more to coloring for children than meets the eye.
As you print these scripture coloring pages for your kids, know you are catering not just to their spiritual development but also to their physical and emotional development too.
I think this makes God happy.
Most of the coloring pages in this post can be used for kids. But here are a few other places to find coloring sheets to use all year round with your children.
Printable Bible coloring pages with verses
I hope you will enjoy downloading and printing these Bible coloring pages with verses.
I enjoyed creating and preparing them for you. Don't be shy about sharing with your women's or youth group if you are a part of one.
And be sure to check out out my collection of Coloring pages about faith to encourage and inspire you.
Terms of use: The printables on The Faith Space blog are for personal use only. The files may not be altered or redistributed for monetary gain without written consent from the author. This includes but is not limited to selling the printed product, selling the file, or uploading the file to any other website other than to have it printed for personal use. You may not use anything on our site for any commercial purposes.