Free printable Bible verses are perfect to uplift your spirit. If you put them in the right place, they can do that just when you need a Word on a bad day? And who doesn't have some of those.
There is a nice assortment of colored and black and white ones. Print your favorites and put them up in strategic places where you know they will be perfect for encouragement and inspiration.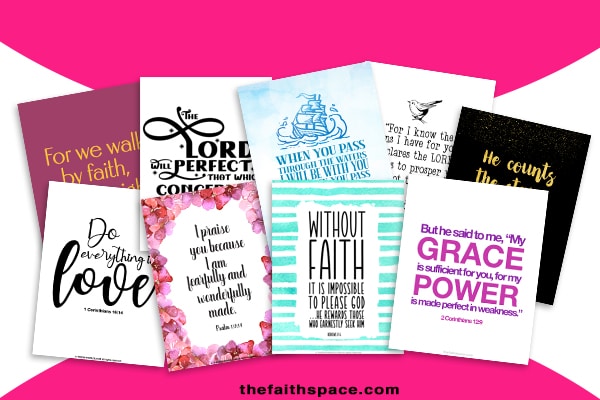 Free printable Bible verses to frame
These free Bible verse wall art are available in both jpeg file as well as pdf.
The sizes are all 8 x 10.5. I left a little space around the edges so that it can fit nicely into your frame of choice.
If you want 4 x 6 printable Bible verses, feel free to upload these to Canva or PicMonkey to resize them.
When it comes to printing, be sure you are not printing on regular printer paper. Those might be too light for this.
There are so many different weights of card stock. Experiment and see which ones work for you.
If you get them printed outside your home, customer service can help you pick the weight that's right for you.
I truly hope that these encouraging Bible verses will bring some light to your space.
And by the way, framing them is not the only way to display printable Bible verses.
At the end of this post, I share some more creative ideas.
Free printable Bible verses black and white
Black and white free printable Scriptures will be easy on your printer.
They certainly will not suck up your colored ink and force you to run to the store to buy more.
Here are the verses you will find. Take a look and download the ones you like below.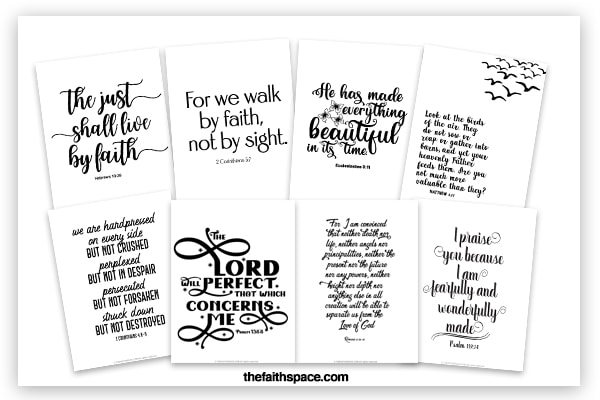 DOWNLOAD BLACK AND WHITE PRINTABLE BIBLE VERSES
Free printable Bible verses for encouragement
Need some some Scripture printables to lift your spirit and inspire you?
Here are some more black and white Bible verse printables.
Below these you will find them with a splash of color.
Don't forget to share them with someone you know will benefit from them.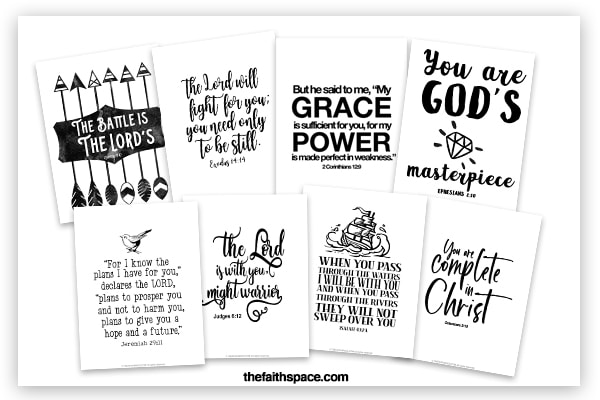 DOWNLOAD PRINTABLE BLACK AND WHITE BIBLE VERSES FOR ENCOURAGEMENT
More free printable Bible verses for encouragement
Bible verse art with color can really cheer up your heart.
Black and white might be minimalist and chic but sometimes, a splash of color will certainly do something extra for your spirit.
These free printable Bible verses pdf will do that for you.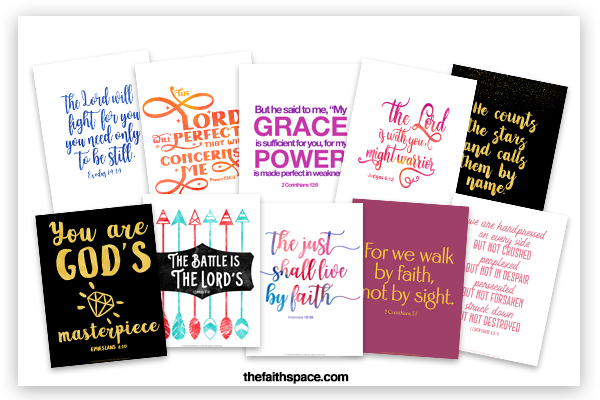 DOWNLOAD FREE PRINTABLE BIBLE VERSES FOR ENCOURAGEMENT
Free printable Bible verses about love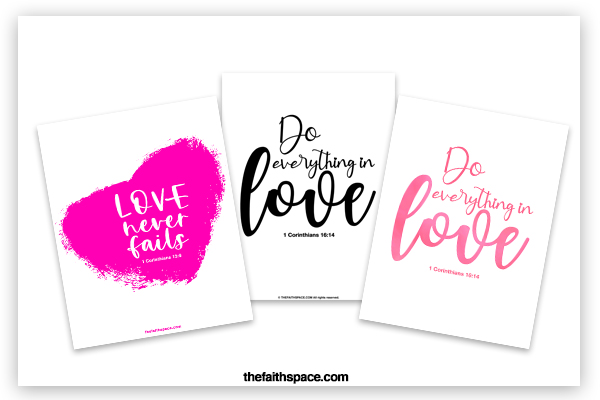 DOWNLOAD FREE PRINTABLE BIBLE VERSES ABOUT LOVE
Free printable Bible verses with pictures
Those who do productivity research are finding that when motivational pictures are included in office decor, even if staff don't consciously notice its presence, they are still positively impacted by them.
They found that they were more productive than other staff members who had prints with just words on them.
Isn't that amazing?
Art work with pictures can affect your mind and mood without you even knowing it.
I guess that's why God created our world so dynamic and colorful. So I have added a few printable Bible verses with pictures free download. These too are all 8 x 10.5.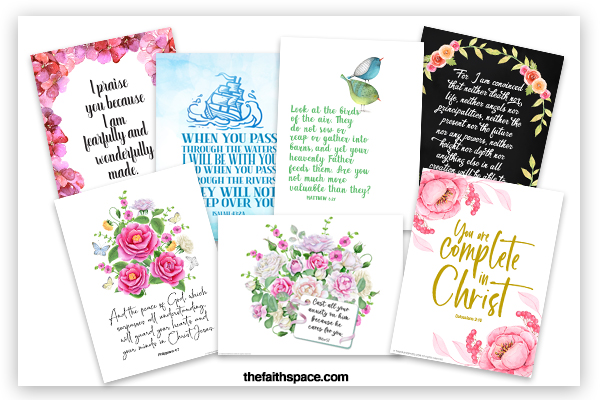 DOWNLOAD PRINTABLE BIBLE VERSES WITH PICTURES
Free printable Bible verse card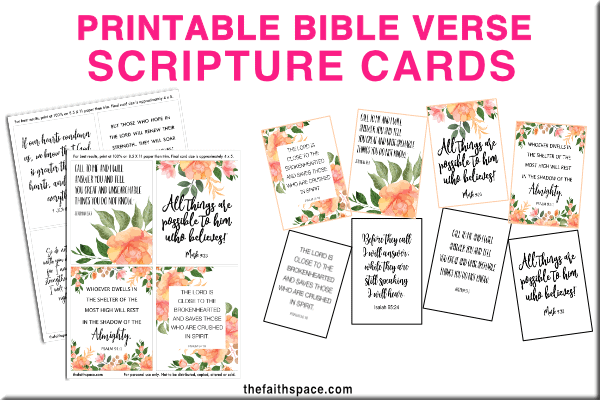 Nowadays, we are all fully dredged with screens. Printable Scripture cards can give your eyes a break from that while still allowing you to interact with Scripture.
You can also put them up at strategic places around your office desk or home. You will find these 8 printable bible verses to memorize.
Isaiah 65:24 Before they call I will answer; while they are still speaking I will hear.
Isaiah 40:31 But they that wait upon the LORD shall renew their strength; they shall mount up with wings as eagles; they shall run, and not be weary; and they shall walk, and not faint.
1 John 3:20 If our hearts condemn us, we know that God is greater than our hearts, and he knows everything.
Psalm 91:1 He who dwells in the secret place of the Most High Shall abide under the shadow of the Almighty.
Psalm 34:18 The LORD is close to the brokenhearted and saves those who are crushed in spirit.
Isaiah 41:10 So do not fear, for I am with you; do not be dismayed, for I am your God. I will strengthen you and help you; I will uphold you with my righteous right hand.
Mark 9:23 "Everything is possible for one who believes."
Jeremiah 33:3 Call to me and I will answer you and tell you great and unsearchable things you do not know.'
Download black and white free printable scripture cards pdf
Download floral free printable scripture cards pdf
GET MORE FREE PRINTABLE SCRIPTURE CARDS
Free printable Bible verses to color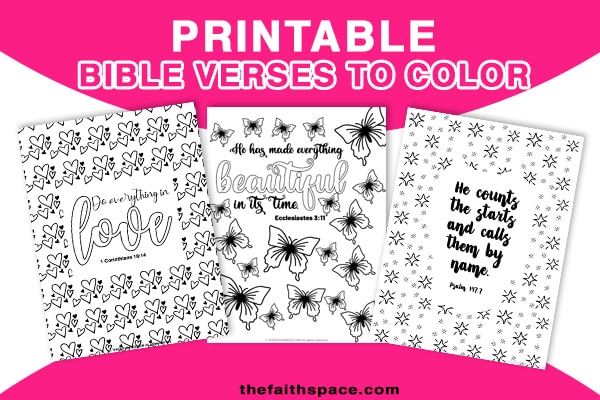 These free printable Bible verse coloring pages have some of the very same verses on the printable wall art above.
Feel free to color these in your quiet time or relaxation time and transform them into wall art.
I hope you have the verse memorized and hidden away in your heart by the time you are done coloring.
Download Do everything in love coloring page.
Download He has made everything good coloring page.
Download He counts the stars coloring page.
YOU MAY ALSO LIKE:
24 Bible Coloring Pages with Verses
20 Free Christian Coloring Pages
More and more research is supporting the idea that handwriting, especially cursive handwriting, helps us remember. Why?
Handwriting engages the brain more than typing does.
Because you are using up more parts of your brain, you are more likely to retain what you have written.
How is that for some old school study skills.
So it stands to reason that one of the best ways to commit Bible verses to memory is to write them!
If you have such a goal, these free printable Bible verses for handwriting and copy work will be just perfect for you.
And for added fun time with God, you can color them too!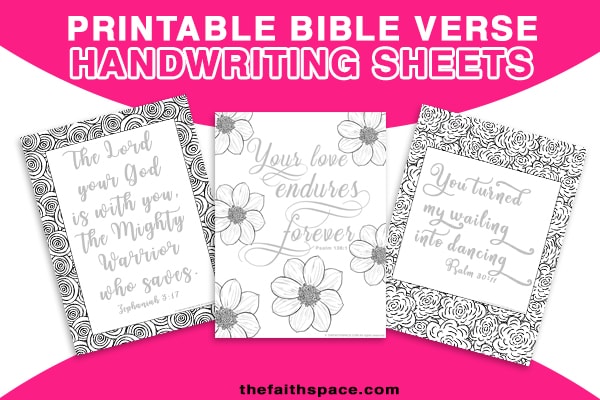 Download Zephaniah 3:17 The Lord your God is with you, the Mighty Warrior who saves.
Download Psalm 30:11 You turned my wailing into dancing;
Download Psalm 136:1 Your love endures forever.
Make your own free printable Bible verse art
There are so many ways to make your own scripture printables without fancy software.
You can use Canva or PicMonkey or BeFunky. These are all free online graphic design software. You do not need to have any special prior knowledge or skills to use them.
My friend Lee-Ann from Kingdom Bloggers has a nice simple tutorial for using Canva to create printable scripture card.
You can use the same principles to make your own Bible verse art to frame.
Don't have time to do all that? I get it. Grab Christin's from Garments of Splendor free editable Bible verse templates to create your printable Scripture cards.
And if you are not quite sure what Scriptures to put on them, you can download this 365 Bible verses printable. It has a Bible promise for every day of the year!
Cute ways to display free printable Bible verses
Here are a few ideas for displaying your Scripture printables. But before I jump into that, consider that smaller sizes, like smaller than 8 x 11 may be better for some of these ideas.
To resize, you can use Canva or PicMonkey or BeFunky to do that. Get in on making your own DIY Scripture art.
You might also need to use thicker paper to make sure the prints have enough weight for your DIY projects. So here we go.
#1 Washi Tape. If you live in a rental, there might be limitations on decorating. Washi tape is a really cute way of creating a renter-friendly frame around your prints on your walls. Your Bible verses will come alive. Each time you look at your walls your eyes will be drawn to it. You're guaranteed to walk over to just spend some time looking at it.
#2 Use a small easel or a wooden block. This perfect for your desk space. Scripture printables can make the perfect gift if you pair them with these. Just resize and print then create a cute little gift package. If you 12 different prints, one for each month, your friend or family member will remember you all year long. Pretty sweet!
#3 Use Binder clips. If your on a budget, binder clips are versatile. They don't only hold papers together. Nicely dressed up, they can hold your Scripture cards quite nicely on a surface. Or you could just some cute colored ones from the Dollar Store to match your decor.
#4 Use a clip board. Here is another multipurpose office tool, although nowadays they have the ones for photos specifically. Feel free to use Command Strip to hold it to you walls. The good thing about displaying your free Scripture clip boards is that you can swap them quickly and easily and often.
#5 Re-do a Dollar Tree Frame. Here is a really creative DIY video with tons of ideas to display your free Scripture printables. Framed Bible verses are all the rage right now.
Free printable Bible verses for you
These free printable Bible Scriptures are just for you. I hope you enjoy them. Come pack and let me know how they are working in your space.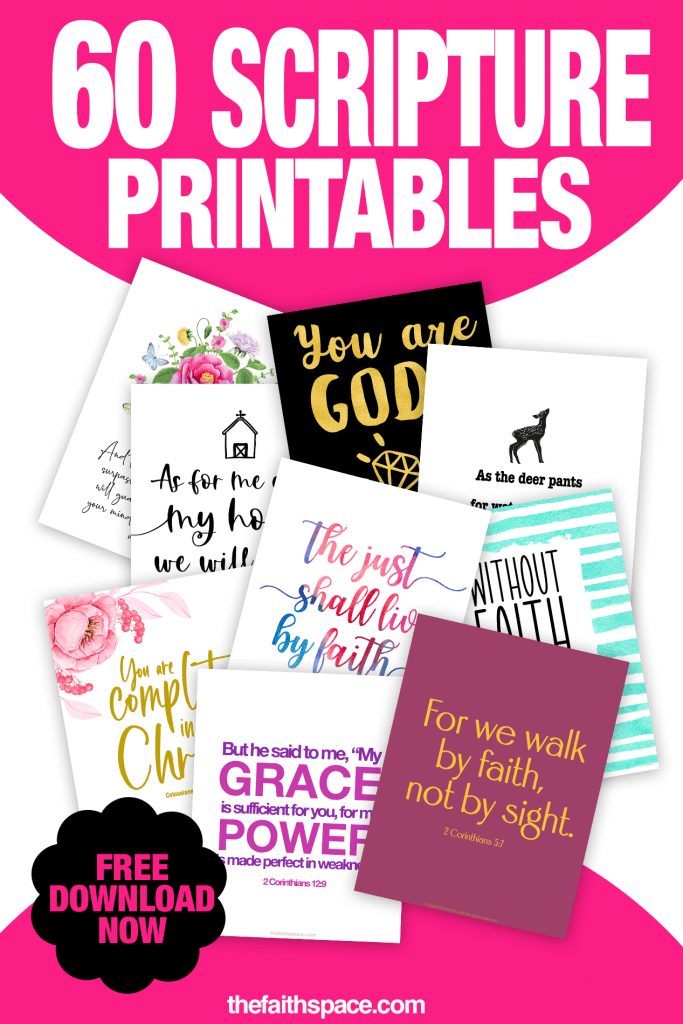 Terms of use: The printables on The Faith Space blog are for personal use only. The files may not be altered or redistributed for monetary gain without written consent from the author. This includes but is not limited to selling the printed product, selling the file, or uploading the file to any other website other than to have it printed for personal use. You may not use anything on our site for any commercial purposes.